FAIRS & FESTIVALS - JULY
KUTZTOWN FOLK FESTIVAL
Date: 07/01/2017 to 07/10/2017
Website: Kutztown Folk Festival
Address: Kutztown, PA 19530
Parking: Parking is Free
Cost: $5 - $14 Tickets. Week Pass for $24
When you think of the Berks County region and the Pennsylvania-German heritage, you can imagine hex signs, PA Dutch quilts and fantastic food! Over 100 thousand visitors attend the festival each year.A quilt barn stocks over 2,500 quilts that are available for display and purchase. Quilting demonstrations show the details of all the work that goes into making a PA Dutch quilt. A quilt auction places a couple dozen special quilts into the hands of the lucky winners.
AMERICAN FREEDOM FESTIVAL
Date: 07/03/2017 to 07/04/2017
Website: American Freedom Festival
Address: Dansbury Park 15 Day St East Stroudsburg, PA 18301
Parking: On Site
Cost: Free
We feature a wide variety of food trucks, vendors, live entertainment on the stage, and carnival style rides and games for your entertainment. FREE fireworks close the festival at dusk on Tuesday, July 4th. A 50/50 will be drawn on the final evening. Handicapped parking available.
SHAWNEE RIVERFEST
Date: 07/08/2017 to 07/09/2017
Website: Shawnee Riverfest
Address: The Shawnee Inn and Golf Resort 100 Shawnee Inn Drive, Shawnee on Delaware, PA 18356
Parking: Free, Onsite
Cost: Free
Shawnee Riverfest is a family fun event aimed at bringing the community together for kid friendly games, free concert, CD sales, auction items, food vendors and more. A percentage of the artists CD and food sales plus 100% of the auction monies will go to the East Stroudsburg Salvation Army Emergency Response Program. Suggested $10 donation, attendees receive a Shawnee Riverfest Totebag.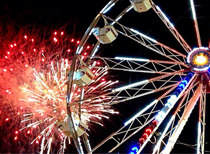 FULLERTON FAIR
Date: 07/11/2017 to 07/15/2017
Website: Fullerton Fair
Address: Fullerton Memorial Playground, 901 Jefferson St, Whitehall, PA 18052
Parking: Free, Onsite
Cost: Free; Wristbands Tues-Thurs Only
Hours: Tues-Thurs 5-11pm Fri-Sat 3-11pm
Fireworks Tues & Sat after Dark
Rides, food, entertainment

PHILIPSBURG HERITAGE DAYS
Date: 07/11/2017 to 07/16/2017
Website: Philipsburg Heritage Days
Address: 4 North Centre Street Philipsburg, PA 16866
Parking: In Town
Cost: Free
It was felt that by having the event at the same time as the Arts Festival, joint marketing could be done for both events to increase attendance. The event has grown through the years to become recognized as one of the premiere events in Central Pennsylvania. Many class reunions, family reunions, homecomings, weddings, etc. are planned around the Heritage Days celebration. Attendance has grown throughout the years and has been estimated at well over 15,000 for the five day event.
LEHIGH VALLEY SPORTSFEST
Date: 07/13/2017 to 07/16/2017
Website: Lehigh Valley SportsFest
Address: Cedar Beach Park, Allentown PA
Parking: On Site
Cost: Cost
Annual SportsFest event with 10,000 amateur athletes, 50 different sports, 150,000 spectators. A Health and Fitness Expo will be held in conjunction with the four days of competition. The Expo will be held at Cedar Beach and will provide athletes and spectators with the opportunity to enjoy healthy living presentations, sample products, meet local vendors, and to find new ways to make healthy choices.
BLUEBERRY FESTIVAL
Date: 07/15/2017 to 07/16/2017
Website: Blueberry Festival
Address: Burnside Plantation 1461 Schoenersville Rd Bethlehem, PA 18018
Join us for a weekend of live music, history, crafts and good food at the Burnside Plantation, our Farm in the City! Enjoy Blueberry Beer and Wine in the Tasting Tent. Colonial Brewer Chris Bowen will be doing live brewing demonstrations just outside the Tent . Must be 21 or older to enter the Tasting Tent. Take a tour of James Burnside's colonial home and barns, catch the hoop in a rousing game of graces, and enjoy the savory smells wafting from the Summer Kitchen. Other activities include colonial brewing demonstrations, kids' crafts and dress-up, high horse powered wheel rides, and of course, the Blueberry Pie-Eating Contest! Parking is available in Martin Tower lot.
POCONO'S WURST FESTIVAL
Date: 07/22/2017 to 07/23/2017
Website: Wurst Festival
Address: Shawnee Mountain Ski Area 401 Hollow Road East Stroudsburg, PA 18301
Parking: free; onsite
The Poconos' Wurst Festival is back with even more wursts, wieners, kielbasa, pierogies and brews! With both Polish and German themes, the event will feature 3 stages of music, traditional costumed dance performances, pig and "hot dog" races, ethnic craft vendors, new "Bier Stein Olympics"- fun games for adults and plenty of wursts, wieners, kielbasa, pierogies and cold brews.
KUTZTOWN KRUIZZ
Date: 07/29/2017
Website: Kutztown Kruizz
Address: Main Street, Kutztown, PA
Are you a car lover? Then Kutztown Kruizz is the festival for you. This antique and new car show has so much to offer the entire family. The evening offers over 400 cars to see, live music, and food! Have a car of your own you want to show off? Bring it! All cars are welcome.This is a great event for car and motorcycle clubs, families, and for someone who just wants to have fun!